Whenever I write Bible studies, I always use a variety of authoritative sources to help me. These usually include a Bible commentary, a concordance, a Bible dictionary, and study notes from other established sources. Some of these sources pose challenges for me. For one, the writing is almost always super tiny. Second, flipping through huge tomes to find meanings of words and scholarly interpretation takes a lot of time. I sometimes get lost in those books! It can also get confusing. I hesitate to set my high schooler loose on those books. I think it would overwhelm her, even though I really stress Bible study and daily Bible reading.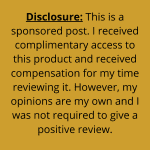 Imagine my joy, then, when I discovered a new Bible commentary, The Jesus of the Gospels, from Kregel Academic. This resource features only the four Gospels, making it easier to manage for Bible research. Jesus of the Gospels is also unique in that it helps students learn about the person of Jesus Christ from the eyewitness accounts of the Gospels, not from third person historical source material. Let's get into some of the other benefits.
Using a Bible Commentary Gives Bible Study Depth
Easy to navigate
High school students are ready for more in depth Bible study, but as I mentioned, typical Bible commentaries overwhelm students. Because The Jesus of the Gospels focuses entirely on the four Gospels, students don't feel so overwhelmed. This resource is easy to navigate with well laid out chapters and headings, making it a pleasure to use. No tiny print, either. Students don't need a course in how to use a commentary when they dig into this book. No more nagging, eye rolling, or heavy sighs. They can just sit down, open to the Gospel they are currently reading, and dig in. Each chapter is subdivided and clearly broken down to aid understanding. See for yourself. Read an excerpt of The Jesus of the Gospels.
Bible commentary Includes bonus material
How many commentaries include authoritative blog posts to further deepen understanding of the material? Well, The Jesus of the Gospels does! The new Kregel Academic blog not only nicely complements the new commentary, but also helps answer important questions that teens often have. For example, I haven't read the Quran and thus, I cannot comment on what it says about Jesus. But, the Kregel Academic blog post, What does the Quran say about Jesus?, helps to answer this question for curious teens. It also points them to quality books that can further help them.
Focuses on first-hand accounts
My favorite aspect of this Bible commentary is that while it is scholarly, it's very readable and depends primarily on Jesus' own words as recorded by the Apostles. It doesn't confuse teens with lots of outside quotes and interpretations. The Jesus of the Gospels strips away all those distractions and abstractions, letting the naked truth of Christ's life and words shine through. It also "connects the dots" for students, helping them see Jesus through the eyes of the Jews of the times. And, showing students Old Testament ties to New Testament words and events. But, it does this in a natural, conversational way that makes reading enjoyable and relatable. Check out The Jesus of the Gospels and see if your student could benefit.
Get The Jesus of the Gospels Bible Commentary FREE!
Enter the giveaway below before June 22, 2020 and you could win $75 worth of books from Kregel Academic. That means that you could get The Jesus of the Gospels FREE along with other resources. Enter now!